The most influential trainers we know read voraciously.
They read books about training, obviously, but they also read about business, marketing, psychology, and personal development.
This list covers all aspects of your career and development.
Click the links below to jump to a category, or scroll down to see all our recommendations.
Best Personal Training Books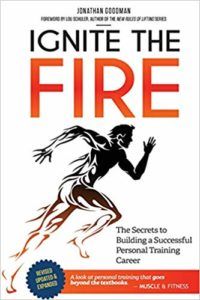 Ignite the Fire: The Secrets to Building a Successful Personal Training Career — Jonathan Goodman
Ignite provides a clear road map to starting your personal training career, building your clientele, establishing your reputation, and boosting your income. This book has 1,000+ 5-star reviews and is also available in both Spanish and Chinese.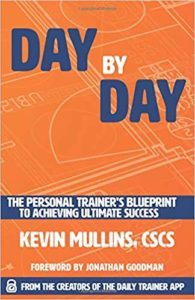 Day by Day: The Personal Trainer's Blueprint to Achieving Ultimate Success — Kevin Mullins
Mullins, a frequent contributor to the PTDC and a master instructor and coach, shares 365 tips to help you become a better trainer, one day at a time.
Conscious Coaching: The Art & Science of Building Buy-In — Brett Bartholomew
Bartholomew is a coach's coach, someone who's trained so many athletes in so many sports that he's developed universally applicable techniques and systems to communicate and build relationships with clients. The goal is to gain their trust and increase their engagement in your program.
Change Maker: Turn Your Passion for Health and Fitness into a Powerful Purpose and a Wildly Successful Career (November 2019) — John Berardi, PhD
The cofounder of Precision Nutrition (and friend of the PTDC) has achieved phenomenal success as a coach, writer, presenter, and fitness industry leader. Now Berardi wants to help young health and fitness pros make a difference with their own careers, building and expanding on their strengths to find their deeper purpose and achieve lasting success.
Secrets of Successful Program Design: A How-To Guide for Busy Fitness Professionals — Alwyn Cosgrove and Craig Rasmussen
Most clients want the same basic goals (look better, perform better, feel and move better), which means your next client's program should be mostly ready for them before they even walk in the door. "Making something different just for the sake of being different is in fact bad programming," Cosgrove and Rasmussen write. This comprehensive guide shows you how to create the templates and apply them to each client, based on their goal, training status, and time frame.  
Best health and fitness books
The New Rules of Lifting for Women — Lou Schuler, Cassandra Forsythe, and Alwyn Cosgrove
Throughout the six books in the New Rules of Lifting series, Cosgrove offers a master class in program design and exercise selection, one used by thousands of trainers since the original NROL was published in 2006. But it was NROL for Women, the second book, that's been the most popular and influential. Its readers include a generation of female fitness pros who embraced the message that women benefit from serious, heavy lifting.
Never Let Go — Dan John
This is Jon's all-time favorite fitness book, a treat for any enthusiast or professional who appreciates lively, at times poetic prose along with John's insights into the training process.
Back Mechanic — Stuart McGill, PhD
True story: The first time Jon interviewed for a job as a personal trainer, he was turned down because he hadn't heard of Dr. McGill. He went home that night and ordered Low Back Disorders, McGill's hugely influential textbook. Back Mechanic is the consumer version of that book. It's filled with user-friendly information and advice, informed by decades of research and hands-on application. You owe it to yourself, and your future clients, to understand what causes back pain, and how you can help them relieve it. This book gives you both.
Strength Training for Fat Loss — Nick Tumminello
Fat loss is the reason your clients come to you, and in a broader sense the reason personal training exists as a profession. Tumminello is a master trainer who's a true innovator when it comes to exercise selection and program design.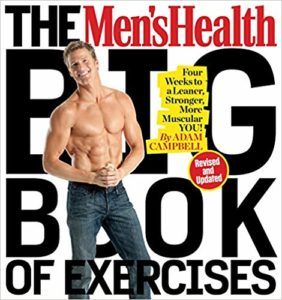 The Men's Health Big Book of Exercises — Adam Campbell
On those days when it's a struggle to keep your client's attention, you'll be glad to have this encyclopedic collection of exercise options.
Starting Strength, Third Edition — Mark Rippetoe
If you're an online trainer, you'll probably have clients whose minimal home gyms include a barbell, bench, and rack. Because Rippetoe has built his career on the primacy of basic barbell exercises, his book is a gold mine of coaching and training methods.
You Are Your Own Gym — Mark Lauren
You'll also have clients who want to train at home without any equipment at all. This book, along with Bret Contreras' Bodyweight Strength Training Anatomy, will give you enough exercise variations to keep them engaged while helping them get the best possible results. Another one we like: Your Body Is Your Barbell, by BJ Gaddour.
Strength Training Anatomy, Third Edition — Frédéric Delavier
Delavier is the Renaissance man of fitness publishing: an artist, anatomist, writer, and powerlifting champion. Not only are his books a joy to flip through, you'll never be stumped when a client asks, "What muscles does this work?"
Science and Development of Muscle Hypertrophy, Second Edition — Brad Schoenfeld
Schoenfeld began his long career in the fitness industry as a personal trainer, gym owner, competitive natural bodybuilder, and fitness writer. Now, as a prolific exercise scientist, he explores the questions he couldn't answer as a gym rat. What's the ideal number of sets for muscle growth? Are heavy weights better than moderate or light weights? How do single-joint exercises compare to compound movements? You'll find answers to those questions, and countless others, in this deeply researched textbook.

The Body: A Guide for Occupants — Bill Bryson
Did you know the weight of your body's microbes equals the weight of your brain? Or that a piece of your cerebral cortex the size of a grain of sand can contain as much information as all the movies ever made (including their trailers)? Bryson, a journalist and travel writer, never settles for the obvious. Even those of us who've spent a lifetime learning about human biology and physiology will find something we didn't know about our favorite subject on almost every page.
Best nutrition and weight-loss books
The New Power Eating — Susan Kleiner, PhD, RD, and Maggie Greenwood-Robinson, PhD
Kleiner was the first nutrition scientist to study competitive bodybuilders; the first full-time sports nutritionist for an NFL team; and someone who's worked with individuals and teams for longer than many fitness pros have been alive. Her decades of experience with male and female athletes at all levels make this book an essential reference for your library.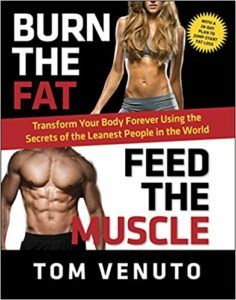 Burn the Fat, Feed the Muscle — Tom Venuto
Venuto is a success story several times over—in bodybuilding, in personal training, in writing, and in marketing. This book, which began as one of the all-time bestselling digital products, shows why.
The Hungry Brain — Stephan Guyenet, PhD
Are you highly disciplined with your diet? Able to resist the dietary temptations the world throws our way? If so, you have a lot in common with the majority of trainers, but only the smallest minority of clients. The Hungry Brain explains the hardwired systems that cause so many people to overeat, and gives you strategies to help your clients fight back.
The End of Overeating — David Kessler, MD
Dr. Kessler, a former commissioner of the U.S. Food and Drug Administration, shows the disturbing similarities between Big Tobacco and Big Food. Both manipulate their products to ensure they're maximally addictive, and do everything they can to obfuscate the disastrous results of those manipulations. This was the first book to reveal how food scientists used sugar, fat, and salt to make it so hard to stop eating once we start.
The Diet Fix — Yoni Freedhoff, MD
Most diet and weight-loss books are written by marketers or single-issue zealots (who eventually become marketers). Dr. Freedhoff, a physician specializing in weight loss, doesn't hawk any particular diet because he's seen all of them fail. In fact, as he shows here, diets can't work until you fix the cravings and negative thought patterns that doom even the best-intentioned weight-loss efforts.
Best business books for personal trainers
Viralnomics: How to Get People to Want to Talk About You — Jonathan Goodman
Why do some trainers attract more attention than others? What makes some social media content go viral, while similar posts and updates get ignored? Jon spent years researching the science of persuasion, and Viralnomics shows you how to use it to craft your messages, build your network, identify and connect with the genuine influencers in your niche (they aren't who you think they are), and ultimately expand both your audience and your reputation.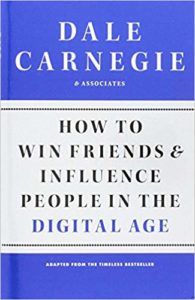 How to Win Friends & Influence People — Dale Carnegie
There's a reason why a book published in 1936 is still, four score and several years later, considered an indispensable guide to interpersonal relationships. Communication has changed, but people haven't. We're all in the relationship business. Carnegie's lessons will serve you well in your career, and your life.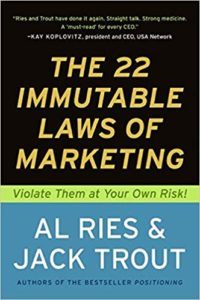 The 22 Immutable Laws of Marketing — Al Ries and Jack Trout
We could recommend any of Ries' books. Positioning was the most influential for Jon, while Lou learned more about publishing from The 22 Immutable Laws of Branding than any book specific to his industry. But Marketing is probably the best place to start, even though it was first published in 1994. That's because the title doesn't lie: The lessons he offers are truly immutable, which makes them timeless.
The Ultimate Sales Machine — Chet Holmes
You're probably skeptical when you see that title. Jon was too. But after it was recommended by one friend after another, he gave it a read. To this day, he considers it the best book on time management, business organization, and sales he's ever come across.
The Ultimate Sales Letter, Fourth Edition — Dan Kennedy
Think of a fitness pro who's well-known for skillful marketing, and chances are that person gives much of the credit to Dan Kennedy. Kennedy has written 13 books and offers a variety of almost incomprehensibly expensive products and coaching services. But for most of his fans, including Jon, Ultimate Sales Letter is the starting point. In fact, it's almost required reading for anyone with a product to sell. That's because those who don't understand and deploy Kennedy's advice will be at a disadvantage to those who do.
Linchpin — Seth Godin
Jon gives a lot of gifts to a lot of people. Many of those gifts are books. And of all the books he sends to his friends and colleagues, he's given more copies of Linchpin than any other title. The reason? Godin taught him how to get noticed and set himself apart from the crowd by becoming indispensable—first to his clients, then to his readers and customers.
While Linchpin tells you how to stand out, another Godin book, This Is Marketing, shows you what to do with the attention you earn. It's a sensational deep dive into what marketing is, and what it isn't.
You really can't go wrong with any of Godin's works. Lou, for example, is a big fan of The Dip. It's a book that answers, from a career perspective, the question famously asked by a Clash song: "Should I Stay or Should I Go?"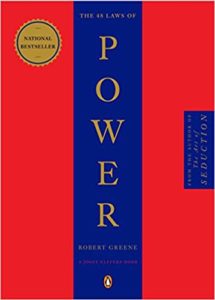 The 48 Laws of Power — Robert Greene
Every relationship is a power struggle. Your relationships with your clients are no different. These laws became Jon's guide when he was a trainer, and they still serve him well as an entrepreneur.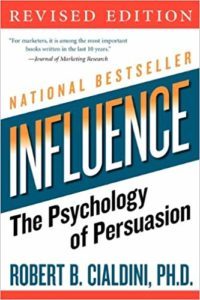 Influence: The Psychology of Persuasion, Revised Edition — Robert Cialdini, PhD
What gets a customer to "yes"? Cialdini's groundbreaking research identifies six principles of persuasion: reciprocity, scarcity, authority, commitment and consistency, liking, and consensus. Even if you don't memorize them, you should internalize the basic ideas.
People don't choose your product or service because you're the smartest, or what you offer is the cheapest. They buy because you gave them something first. Because they're afraid they'll miss out. Because they perceive you to be objectively credible. Because it continues something they're already doing. Because they like you. And because they believe others are on board with your program.
The Tipping Point — Malcolm Gladwell
If any book ties together all the other business books on this list, it's Gladwell's classic. The process of establishing a brand, developing relationships, building your business one client or customer or fan at a time can seem like a slow grind … until that moment when it all pays off.
Best books to open your mind
Sapiens: A Brief History of Humankind — Yuval Noah Harari
The first time Jon and Lou met, this is what they talked about: the history of our species. (Another true story.) It was at the Fitness Summit in 2012. Lou had just delivered an entertaining but eccentric presentation on why the historical rationale for the paleo diet (a very big deal at the time) was complete bollocks. Jon mentioned that he had minored in anthropology in college, and they've been friends ever since. No surprise, they later discovered they're both fans of Sapiens, which tells the story of the last 70,000 years, following the still-mysterious rise of recognizably human modes of thought and perception.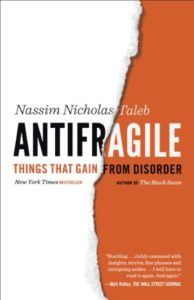 Antifragile: Things that Gain from Disorder — Nassim Nicholas Taleb
One unique product of modern perception is the contrarian, the occasionally brilliant thinker whose best ideas sometimes make up for pointlessly stubborn arguments that ignore all logic and evidence.
An earlier Taleb book, Fooled by Randomness, was Lou's first exposure to his unique ability to look at the world we all live in and see things we've failed to notice. Jon is partial to Antifragile, an examination of the positive effects of often catastrophic events.
There's an encouraging takeaway for fitness pros: You can't prepare for all the bad things that might happen, much less prevent them. But you can be prepared to move on when circumstances change.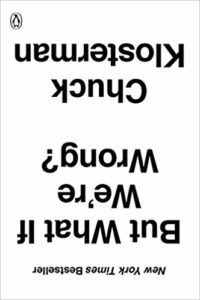 But What If We're Wrong? — Chuck Klosterman
Just about everything we now understand to be true was once considered ridiculous, if it was considered at all. And just about everything we think we know today will eventually be proved comically incomplete, if not completely inaccurate.
That's where Klosterman begins: with the acknowledgment that we simply can't know what we don't yet know. And then he takes off in unexpected directions, wondering how the future will regard not just today's ideas, but our tastes and preferences in everything from art to sports.
Ego Is the Enemy — Ryan Holiday
We live in a world in which every news cycle is dominated by the stupidest ideas from the least credible people for no reason other than their ability to get attention. Holiday's book is a plea for humility. (And, for the record, saying "#humbled" when something phenomenal happens is the opposite of humility. It's a way to boast about how awesome you are without appearing to boast.) Genuine humility requires self-awareness and a worldview that acknowledges you're not the center of the universe.
Tiny Beautiful Things — Cheryl Strayed
For two years, Strayed wrote an anonymous advice column called Dear Sugar for The Rumpus, an online literary magazine. She only revealed her authorship of the deeply felt essays a few weeks before Wild, her bestselling memoir of hiking the Pacific Crest Trail, came out to universal acclaim. She published this collection of her columns a few months later. The result is a hybrid of self-help and autobiography that embodies the humility Holiday pleads for in Ego Is the Enemy.
---
If you could only buy one book, make it this one: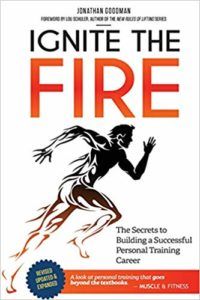 Most aspiring or current trainers are left to figure it out for themselves. You don't need to go it alone. Instead, buy a copy of Ignite to get the insider knowledge that you need, and your client deserve.
Now in V2.0, Ignite the Fire is the most positively reviewed book for trainers on Amazon with an astounding 680+ 5-star reviews. Specifically, you'll learn:
Find, market to, and sell your ideal client while seamlessly dealing with objections (pg 64)
Deal with the 10 most common difficult client types (pg 160)
Develop multiple income streams while maintaining your reputation (pg 202)
And more.
Get your paperback copy at theptdc.com/ignite or, if you prefer, get it on audible or Kindle on Amazon.