So you've been working your ass off writing fantastic articles; gaining email subscribers, Facebook followers, YouTube views; or doing whatever else to gain fans, followers, or clients online. Don't worry, your hard work of building your customer base is going to pay off–as long as you know how to use it.
One way to generate income while adding further value to your followers is with affiliate marketing.
Affiliate marketing is you promoting, sharing, or recommending other people's products with whom you have an affiliation, then you earn a commission whenever someone makes a purchase based on your recommendation. Yes, it really is that simple!
Now let's go over how you can effectively incorporate affiliate marketing into your fitness business plan.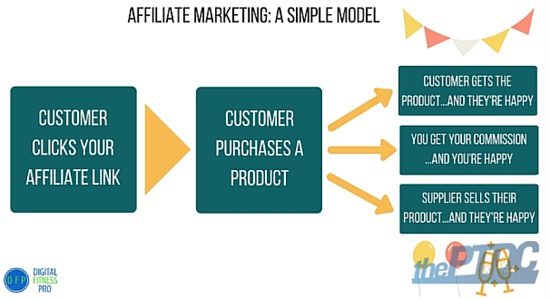 Making affiliate marketing work for you.
Realistically speaking, affiliate marketing can be a viable source of income, but it's not likely going to generate a life-changing source of income. (You may want to hold off on your private jet in the meantime!)
It's really more of a secondary source of income, or something with which to supplement the income from your core personal training business.
One of the perks is that affiliate marketing is a form of "passive income", so once you've set everything up you'll earn income without needing to do anything else. So, whether you make $500 a month or $50 a month, it's still money for doing (pretty much) "nothing."
But here's the pickle: there are a few considerations before you can effectively apply affiliate marketing, because how well you can do really depends on three things:
How many engaged followers you have: The more people you can share your recommendations (and affiliate links) with the better. Quantity is not everything though; a small number of truly engaged followers almost always works out better than a large number of less committed followers.
The type of products you promote: The price and rate of commission for products that you can market vary quite considerably. For example, digital products like online training courses can offer as high as 50-70 percent commission, whereas a hard-copy book might be 1-2 percent.
Alignment with your brand and audience: For example, if your brand is all about getting fit outdoors, then promoting indoor exercise equipment is not going to be well-received. On the other hand, promoting all-weather sporting apparel and gadgets for outdoor exercise could gain attention. The chances that your engaged followers will check them out and potentially make a purchase are much higher.
Find and join affiliate programs.
Amazon offers one of the largest affiliate programs called Amazon Associates.  It's a great way to get started with affiliate marketing since Amazon is also one of the largest marketplaces in the world (you can find everything on Amazon, after all!). Commission ranges from 1-10 percent and varies depending on the type of product you're promoting. When you join Amazon Associates, make sure you familiarize yourself with the rules, as they vary by country.
A quick primer on using Associates: You'll have your own unique login, which you can use to browse products normally on Amazon. You'll also have a toolbar at the top of the page that allows you to do Associate-only things, like getting your special affiliate link of the product you'd like to promote in your blog posts and emails, for example.
Even if someone clicks on your affiliate link but doesn't purchase immediately, you still receive commission on anything they buy on Amazon for up to 24 hours.
More companies offer affiliate marketing programs than you probably realize, so start by gathering a list of companies you'd like to represent and would be comfortable promoting. Then visit the website of products that you like or use and see if there is any mention of an affiliate program. If you don't see anything obvious on the website, why not get in touch with the company directly and enquire?
All in all, affiliate marketing programs are usually quite simple to join. Most involve filling out an application form. Once you've been accepted, the representative or company will provide you with further details. You'll also be provided with a unique affiliate link so that you can start promoting. Affiliate links identifies you as the person who made the recommendation or the sale, and thus, are due a commission payment if a purchase is made.
Implement affiliate marketing the smart way.
Now that we've gone over some basics, here are my top five tips to help you get started.
1. Don't promote brands you don't believe in.
Only recommend products that you're familiar with or products that you use now, or have used in the past. It's really important to put your audience first and to make sure your recommendations are genuine and backed by your true confidence. Don't be that person who recommends something useless. You most likely wouldn't recommend a bogus product  to your closest friends, so don't do it to your followers either.
2. A high commission rate shouldn't be the reason you like a product.
This goes back to the first point. The reason you approve of affiliate marketing with certain brands and companies should never be because of a high commission–that would be dishonest. Never abuse the attention you have and the trust you've built up with your clients for a quick buck. It just doesn't balance out in the end.
3. Avoid boring promotions and share your experiences.
When you link to an affiliate product, don't just put an ad or promotion on your website with no context. It's far better to explain what something is, why you like it, what you use it for, the success you've had, and so on.
Let's say your business is all about getting fit outdoors and you're promoting a particular fitness tracker with all the bells and whistles: a GPS, calorie burning data, a step counter, and a lot of other features. To sell this properly with context, you could write an article on your experiences using it, or better yet, shoot a short video of you using or talking about it.

4. Only promote one or two of the same type of products.
Don't promote too many things at once. For example, if you're promoting kettlebells, it's all right to write an article or shoot a video explaining why one or two brands of kettlebells are your favorite and why. But if you start saying that four or five are your favorite and you recommend them all, that's just too many choices and not helpful for your follower. It doesn't seem genuine either.
5. Play by the rules.
There are some rules that come with affiliate marketing. When you apply to join an affiliate marketing program, you will always have to agree to the program's terms and conditions. So, be sure to read them along with any other guidelines that you're directed towards.
For example, in America, you are legally required to fully disclose that you're sharing affiliate links. You don't have to write a disclosure with every link you share, but it should be clear somewhere on your website (for example, you could add a 'Disclaimer' page); or if your affiliate links are in a document (like in an ebook), it should be made clear somewhere that its links are affiliate links.
The smart thing to do is to fully embrace this rule.   Be completely honest and transparent, which conveniently provides an opportunity to win trust. Assure your followers that you'd recommend the product, service, or brand regardless of the affiliate commission you may receive.
At the same time, don't write a boring "Warning: links are affiliate links" message; get more creative. For example:
Some of the links on this page are affiliate links, meaning I get paid a small commission if you click the link and purchase something. You have my word I'd never promote anything that I don't truly believe in–I swear on the most sacred of all vows…a pinky promise!
Feel free to use some variation of the above that fits your voice, personality, and style.
If this all sounds like a great idea but a little bit daunting, then don't worry. You can start small at first, try a few products and see how you can get on. It's all about testing, perseverance, and leading with integrity.
Learn more about expanding and growing your fitness business: